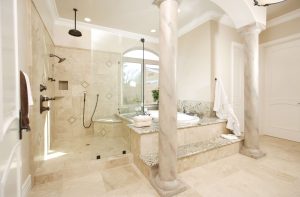 If you have a tile and grout shower stall, whether it is a basic ceramic stall or an elaborate natural stone steamer, you are dealing with the most powerful element of nature as your enemy — and that enemy is water!
We have all struggled in battles against this shower enemy. From hard water, calcium and lime deposits to rust stains, we've experienced them all. At Strassburger Tile Perfection, we have refined our techniques and processes for restoring your existing shower stalls to such a high level that you should never have to resort to replacement again!
During our shower stall restorations we start by using the proper pH balanced chemical cleaner specified for the cleaning of tile and grout. This is followed by a thorough distilled water steam cleaning to remove all of the chemicals. From there, we deal with any grout, stone, and caulking issues that are present, taking the time to replace any of these critical areas. We finish by sealing any of the natural stone tiles and grout channels, as needed. If we begin your restoration work and find water damage in the substrate building materials, we still have the ability to complete the restoration.
Shower stalls are soaked with water, soap, shampoo, conditioner, and hair dye anywhere from 250 to 1500 times a year. Protect your investment and maintain your shower stall through restoration.