A clean commercial ceiling is a key requirement for health inspection tests. Rather than replacing your dusty, steam damaged, or grease splattered ceiling, Strassburger Tile Perfection can clean & restore your ceiling to save you thousands of dollars.
At Strassburger Tile Perfection, we offer two common types of commercial ceiling cleaning services: acoustic tile ceiling cleaning and vinyl-coated gypsum tile ceiling cleaning.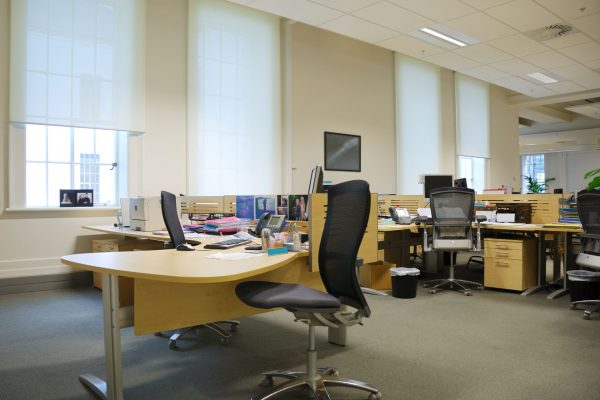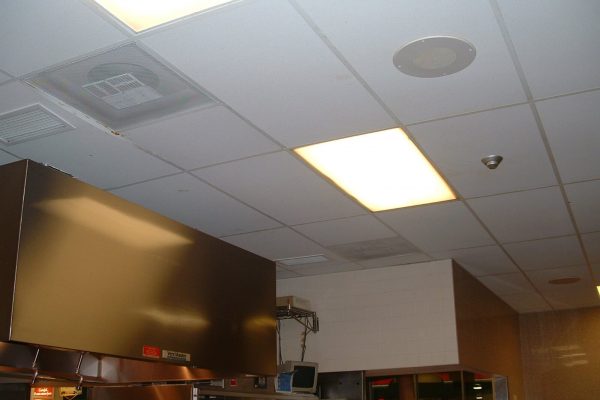 Some business owners attempt to clean their commercial ceilings by vacuuming or scrubbing them. Without the proper commercial ceiling cleaning equipment, this does little to clean your ceiling and can actually damage the finish on the ceiling tiles. We also offer tile replacement and hanger grid service as part of our offerings.
Many businesses paint over their commercial ceiling tiles. However, this restricts the ability of acoustic tile ceilings to absorb noise, resulting in increased echo in your restaurant or store. Acoustic and vinyl-coated gypsum tiles are designed with a burn rating that must meet building codes. Furthermore, painting commercial ceilings create toxic chemical smoke in the event of a fire, reducing the time for a safe exit from a building.
Commercial Ceiling Cleaning – Done Right
For acoustic tile ceiling cleaning, we start by vacuuming the ceiling tile to remove dust, using a commercial HEPA-filter vacuum. We then spray your commercial ceiling with specialized ceiling cleaning solutions which return the ceiling tile to its original condition in most cases. As commercial kitchens are dealing with steam, grease & food splatter, a different approach is required.
For vinyl tile ceilings, we apply commercial alkaline ceiling cleaning solutions to liquify the soil build-up. Using telescopic poles, the surface is wiped down, repeating these steps as needed. We finish the process by neutralizing the surface to remove any residue. We also manually clean all ceiling grids and fixtures attached to the commercial ceiling tiles.
These methods allow you to maintain the fire code and noise-level absorption of your commercial ceiling tiles at a fraction of the cost of replacement.
For other types of commercial ceiling cleaning, see our Open-Concept and High-Level Ceiling Cleaning services.
Improve the aesthetic and safety of your business, get your vinyl or drop ceiling professionally cleaned.