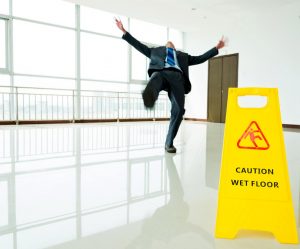 Whether you own a commercial, industrial, or institutional property, correct safety around slippery floors is always a priority for reducing liability.
Slippery flooring and surfaces such as slippery pool decks, showers, or restaurant floors can be hazardous, but there are non-slip flooring solutions.
Non-Slip Flooring Treatment
Strassburger offers effective and safe non-slip flooring treatments to help prevent slips and falls. Our non-slip floor treatment is a quick, affordable process with no harmful or toxic chemicals.
We start by cleaning the slippery floor and then apply the non-slip floor chemical product. We end with a full rinse and vacuum your new non-slip flooring with our specialized spinner tool.
Your non-slip flooring or no-slip tile surface is ready to walk on just minutes after completion. The whole non-slip flooring process adds only a small percentage to the cost of a basic floor tile cleaning.
Candidates for Non-Slip Flooring Treatments
Non-slip flooring treatments are suitable for many different scenarios:
Poolside decks or gym showers
Retail storefronts
Grocery store produce departments
Restaurant dining areas
Business vestibules & waiting rooms
Keep your business safe, give your floors Strassburger's non-slip flooring treatment.