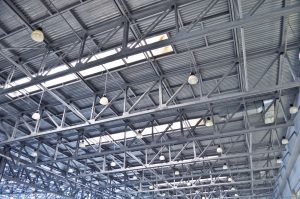 In both our industrial and commercial ceiling cleaning services, we take pride in leaving your store, restaurant, or kitchen in the same condition as when we arrived – with the addition of a clean industrial ceiling.
Industrial Ceiling Cleaning – Without the Worry
We start our industrial ceiling cleaning by protecting all floors, walls, and surrounding surfaces with a poly-plastic film, taking care not to damage any goods or furniture below.  We also take care when cleaning expensive ceiling equipment such as security cameras, monitors, and light fixtures.
We start by vacuuming the grease-saturated dust off of all industrial ceiling fixtures using an industrial HEPA-filter vacuum. We then clean your industrial ceiling with an all-natural industrial ceiling cleaning, degreasing solution. This softens dried-on dirt & residue, which is then removed with a microfibre industrial ceiling cleaning cloth. Bleach is only used when necessary.
Industrial Ceiling Cleaning – For Safety & Peace of Mind
Any dusting or cleaning higher than 8 feet falls under the domain of our industrial ceiling cleaning service. Business owners may be tempted to ask their employees to clean store walls or fixtures. However, when cleaning or dusting anything over 8 feet high, there is a liability factor. Your rates with WSIB could be affected. This is in addition to the risk of something happening to one of your employees.
The benefit of our industrial ceiling cleaning company is that we have been specially trained in industrial ceiling cleaning and high-level dusting. We have years of accident-free experience in industrial ceiling cleaning. By using an industrial ceiling cleaning company, there is no liability risk to you as a business owner.
For drop ceiling cleaning, see our Commercial Ceiling Cleaning services.
If you are looking for industrial ceiling cleaning or high-level dusting, Strassburger Tile Perfection can help.