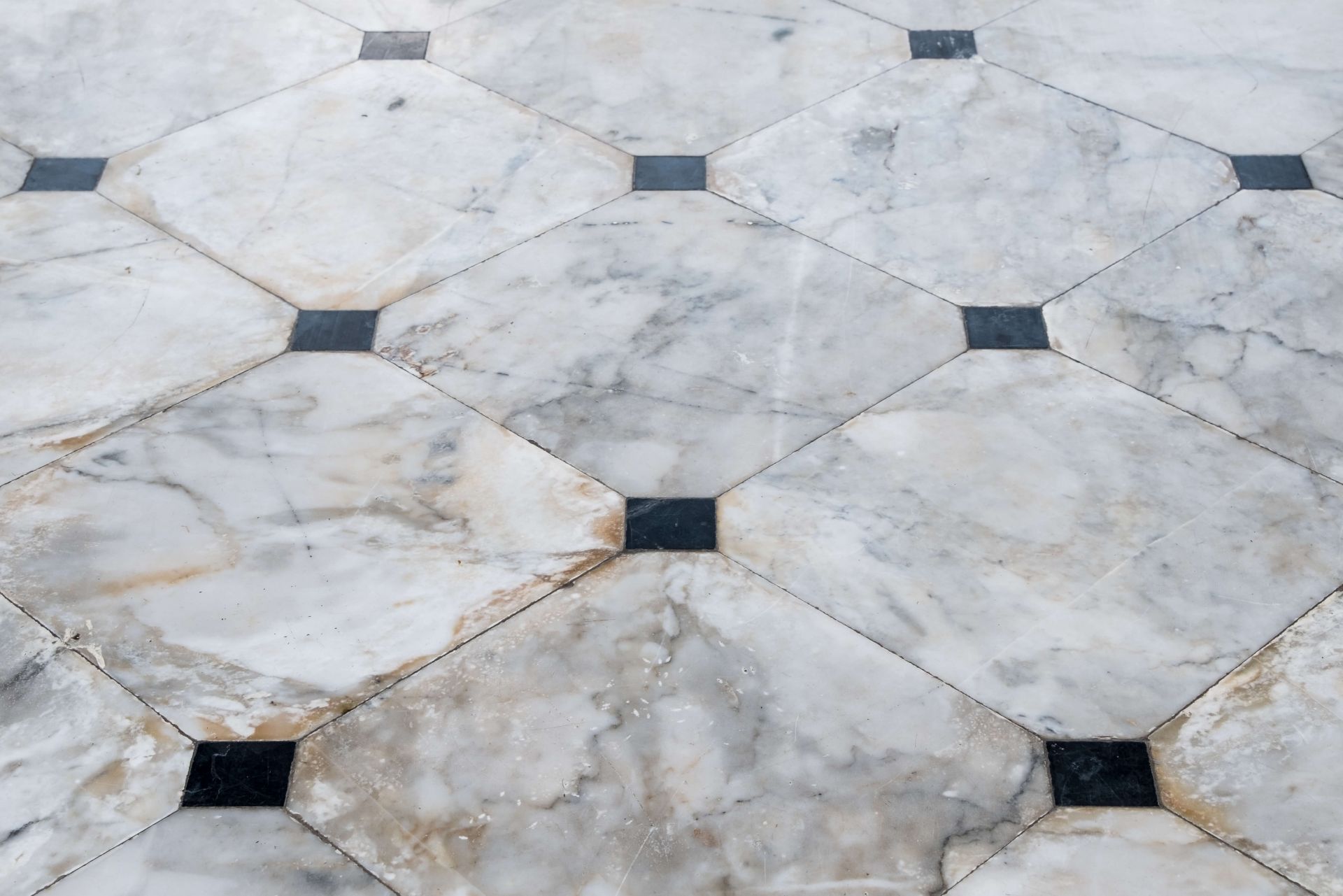 Natural Stone Repairs
In some cases, we can repair a broken floor tile without needing to remove it from the floor at all. This allows us to save you money on broken floor tile replacement.
For example, if the subfloor is stable, removal may not be necessary. We can test the subfloor by simply pressing on either side of the broken floor tile. In these cases, we are able to create a lasting repair at a substantially lower cost to you.
If your natural stone has lost its shine through daily wear, we can also restore them with proper cleaning and diamond polishing.
Types of Natural Stone Flooring
If you are considering adding natural stone flooring to your home or business, you're probably counting on its durability and strength to stand up to most common spills and messes.
While some natural stones do have great durability, it's important for consumers to be aware of the difference between different natural stones, so you can make the right choice. Here are some of the common types of natural stone flooring and the risks associated with them:
Granite Flooring
Granite is one of the most durable types of natural stone, and there's a reason it's often used for kitchen countertops. Granite starts as liquid magma in the earth's core and it is one of the strongest flooring options. It's great for flooring, countertops, and outdoor use.
Quartz Flooring
Quartz is another great option if you're looking for a highly durable natural stone. In fact, granite is mostly made up of quartz. Quartz is more flexible than granite, making it easier to install in a variety of situations. It doesn't require any sealing because it's non-porous, which means it is a great low-maintenance option for kitchens.
Slate Flooring
Slate is one of the most common types of flooring, as it's very hard and able to stand up to high traffic. Slate is favoured by pet owners because it's not likely to be scratched or scraped, and it is excellent for foyers, hallways, and other high traffic areas. Plus, it looks beautiful!
Slate has a very long lifespan, so you likely won't have to replace it, but the sealer finish will have to be stripped and re-applied based on wear and tear. Raw slate is absorbent and not water-resistant.
While marble is a stunning and luxurious option for flooring and countertops, it's very high maintenance compared to its stronger counterparts. Marble has to be cleaned and sealed regularly, and it should only be cleaned with a pH-neutral cleaner. It's also very likely to stain, so you should avoid marble if you are putting it in a high traffic area. If you need something more durable, granite is the way to go.
Travertine Flooring
Travertine is another soft stone that requires scheduled diamond polishing and sealing to maintain it in good condition. If travertine is left unsealed, it can be very difficult to clean. Travertine is not very durable compared to granite, quartz, and man-made stones, as it is quite soft and prone to chipping and scratches. Unsealed travertine is not a great idea for kitchens or bathrooms, and polished travertine can be too slippery in high moisture areas.
Limestone Flooring
Limestone is a very popular choice for residential flooring. However, like travertine, it's very porous and likely to crack and scratch. Porous materials stain very easily and are challenging to maintain as stain removal can be quite difficult. Limestone must be sealed regularly to keep any dirt or soil from becoming embedded. This type of flooring is not recommended for high traffic areas.
Natural Stone Cleaning Services
Natural stone is a beautiful addition to any home or business. With the right maintenance and upkeep, natural stone can be a long-lasting surface for flooring.
However, it is important to use the right cleaning techniques to avoid damaging your floors. Here are some important Do's and Don't's for cleaning natural stone flooring.
Natural Stone Cleaning Do's
Clean the natural stone surface of any dust, grit, and sand with a dust mop on a regular basis. Any debris left on the surface can scratch the natural stone.
Use a mild pH neutral cleaner when cleaning the surface.
Thoroughly rinse with clean water before and after washing a heavily soiled floor.
Clean up spills immediately after they occur to prevent stains.
Keep natural stone floors in extremely high traffic areas, like the garage entrance, protected with mats or area rugs.
Keep natural stone countertops protected with coasters, trivets, and placemats where needed
In addition to daily cleanings, do periodic deep cleaning.
Clean bathroom vanity tops with Ph neutral cleaners intended for natural stone, not low Ph bathroom cleaners. Apply a sealer if needed.
Use a squeegee after using your natural stone shower to prevent soap scum buildup.
For mirrors located above a natural stone countertop, clean them with a natural stone cleaning solution or alcohol & water mixture. Ammonia glass cleaner may damage your soft stone surfaces.
Clean stains with care, non-aggressive detergents, or a poultice if necessary.
Natural Stone Cleaning Don't's
Never use cleaning agents like lemon juice, vinegar, or other acid-based cleaners on marble, limestone, travertine, or onyx surfaces.
Never use acid-based cleaners like bathroom cleaners, grout cleaners, or tub & tile cleaners.
Avoid abrasive cleaners like dry cleansers or scouring cleansers.
Never mix bleach and ammonia, and never mix other chemicals unless directed specifically to do so.
Don't use tired or worn vacuum cleaners as these damaged attachments or wheels can scratch the natural stone's surface.
Don't place hot items directly on the natural stone's surface.
Never use scouring powders or creams.
Don't clean natural stone with ammonia-based cleaners. This can dull the stone over time.
Don't paint your nails or use other chemicals near your natural stone countertop.
If your natural stone is beyond cleaning, consider natural stone restoration. The team at Strassburger Tile Perfection services all of Southern Ontario. Contact us today to request a quote.
Do you have natural stone flooring that you would like restored?