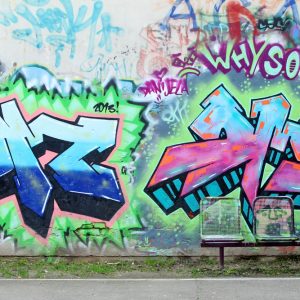 At Strassburger, we take pride in the opportunity to clean up our streets and promote pride in our community through proper removal of graffiti. Here are the top reasons why our graffiti removal clients choose us as their graffiti removers.
Removing Graffiti – As Though The Graffiti Was Never There At All
We take pride in removing graffiti right. Whenever we remove graffiti, we do our very best to ensure that you can never tell that there was graffiti present in the first place. Removing graffiti so that it is non-detectible is important in order to prevent repeat tagging & graffiti.
Our graffiti removal technicians always bio-chemical clean or paint over an extensive area of the surface where the graffiti was removed with colour matching paint so that you cannot tell that any graffiti removal took place.
Effective Graffiti Removal for Any Surface
We remove graffiti on many types of surfaces – concrete, wood, glass, and a variety of painted surfaces. Our graffiti removal technicians tailor their graffiti removal methods to the surface type, as well as the age of the graffiti to be removed.
No matter what the type of graffiti-affected surface we deal with, we ensure that the integrity of the original surface is kept in mind.
Environmentally-Friendly, Non-Toxic Removal
We clean graffiti through a variety of methods, including biodegradable citric water blasting or soda blasting. Removing graffiti through water blasting uses a combination of high-pressure water and a citric graffiti cleaner, which is biodegradable.
In the media blasting method of removing graffiti, the active ingredient is baking soda and non-silica sand, so it is very safe for humans, as well as non-polluting for the environment. This is compared with graffiti removers who use silica sandblasting. We never use this graffiti cleaning method, as it is a health hazard and can cause soil damage.
Are you looking to have graffiti professionally removed?